"When a noble disciple recollects the Tathāgata, on that occasion his mind is not obsessed by lust, hatred, or delusion;
his mind is simply straight, based on the Tathāgata. A noble disciple whose mind is straight gains inspiration in the meaning,
gains inspiration in the Dhamma, gains gladness connected with the Dhamma. When he is gladdened, joy arises. For one with a joyous mind,
the body becomes tranquil. One tranquil in body feels happiness. For one feeling happiness, the mind becomes concentrated."
—AN 11.11
Gathering Refuge in 10 Million Mantras
Clear Mountain's community has begun meditating together on the Buddha, Dhamma, and Sangha, and reciting the traditional Pali mantra of refuge, aspiring to "gather" 10 million recitations. Join our global family of those with faith in crystallizing intention towards the creation of Clear Mountain Monastery, a refuge for all beings.
The traditional Pali mantra: "Buddhaṃ saraṇaṃ gacchāmi, Dhammaṃ saraṇaṃ gacchāmi, Saṅghaṃ saraṇaṃ gacchāmi," meaning, "To the Buddha… Dhamma… Sangha I go for refuge", is often recited under one's breath or silently throughout the day and counted on a string of mala beads. Recollecting the Triple Gem—the Buddha, Dhamma, and Sangha—recalling their qualities and deepening our refuge, brings joy to the heart and helps purify the mind. We then dedicate the goodness of our virtuous actions to the awakening of all beings. Simultaneously, we dedicate this goodness to the creation of Clear Mountain Monastery, a spiritual refuge for all. 
To recite the the mantra 108 times, or one round on a long Clear Mountain Mala, takes approximately ten minutes, and represents a powerful, daily reminder of our faith. A video of how to use malas in practice may be found here. Together, let's continue the Recitation of Refuge. Sadhu!
Goal: 10,000,000 Recitations
Thank you for your joyous effort & offerings!
856,733 recitations as of Dec. 4, 2023 Sadhu!
Request a Clear Mountain Mala
To receive one of Clear Mountain's malas, made from locally-sourced Montana agate and other beads blessed by senior teachers in Thailand and the community during pilgrimage to the Bodhi Tree, click the button below or fill out this form. The malas, sponsored by donors to the Clear Mountain Book & Mala Fund, and strung or finished by the local community, are freely given and shipping covered from an existing reserve, though if you wish to contribute towards future postage costs, you may do so here. As international mailing costs average approximately $15 per mala, we ask those requesting from outside the US consider contributing if they are able (though if you lack the resources to donate, don't worry! We still want you to have a mala). Please allow one month for shipping. If the mala doesn't fit, or you decide you'd like a different size, you may return it via mail and make a new mala request, noting it as an exchange. If you live in Seattle, you may simply request one at a Saturday gathering. If the beads' color begins to fade with repeated use, please feel to email [email protected] for instructions on where to mail them for restringing with more colorfast beads, though you may also simply have them restrung locally while keeping the blessed agate beads. We do ask that you treat the malas with respect, and when setting them down, consider doing so in a high place, preferably a shrine. 
You may use the mala for Recitations of Refuge, in your own practice, or as an article of faith. For a detailed description of how to use a mala in practice, see the video, Mālas in Daily Life. We do ask that, before requesting, you join Clear Mountain's community by attending at least three events, in-person or online, and that each person request just one mala. Additionally, we hope you'll continue to follow the monastery's growth through the newsletter and other means. You may email Bonnie, our wonderful "mala manager", at [email protected] with any questions.
May all beings be well!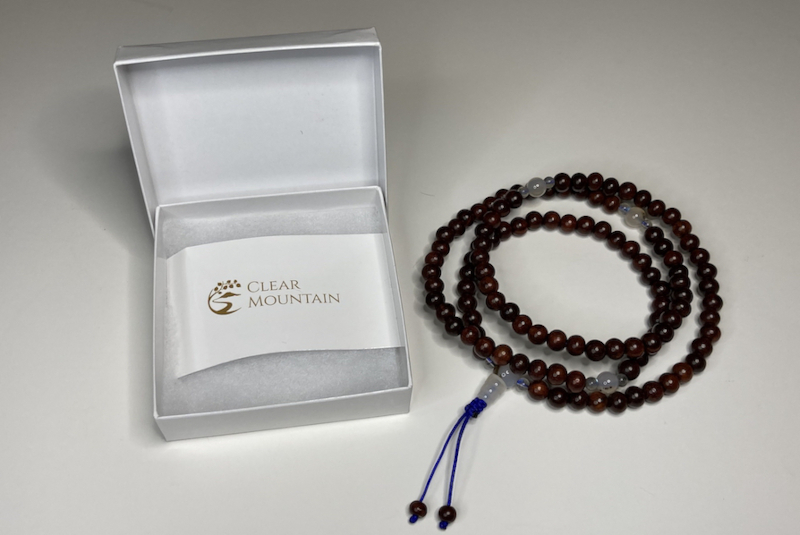 A 108-bead Clear Mountain mala.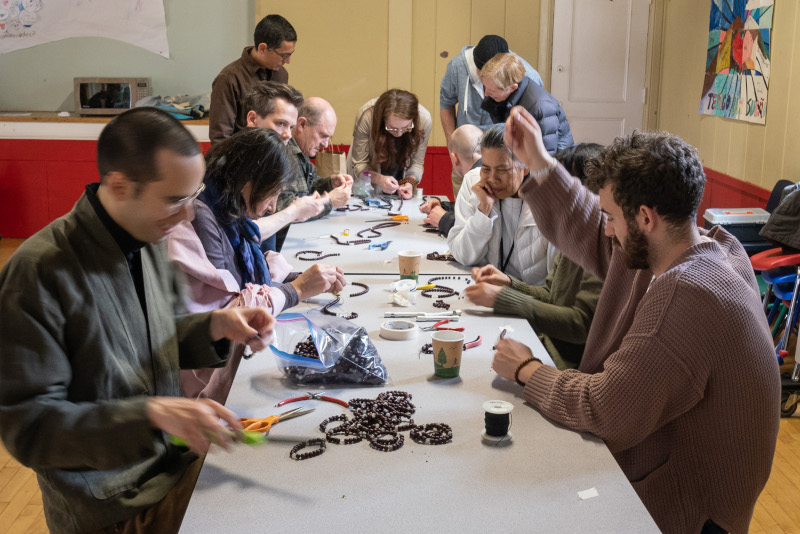 The community strings malas as gifts of faith.
Clear Mountain is currently searching for land near Seattle on which to begin building a monastery. In addition to housing a community of monks, the monastery will support a range of activities common to Theravāda Buddhism. These include: pūjas (chanting and meditation), sutta and Pali study, online and public teachings, all-night sits, meal offerings, observance of Buddhist holy days, visits from guest monastics, and retreats. Furthermore, Clear Mountain hopes to eventually feature accommodations where sincere practitioners may stay and practice, all lodging and teaching offered freely in the spirit of Dhamma.
While Clear Mountain's vision is still evolving, we hope to find a location that balances seclusion with accessibility and allows ample room for growth. Eventually, the monastery would likely feature one or more central buildings along with several monastic kutis, or huts, and be forested enough to provide a measure of seclusion to residents.
The property, however, must still be accessible and not too distant from the city, as it aspires to eventually serve as the hub of a growing community of families and practitioners who visit regularly or even purchase homes nearby, integrating monastery activities—such as morning and evening chanting and meditation—into their daily lives.
Those in the community continue to give every day in large and small ways, and current and pledged contributions have reached $300,000. You can join them here.