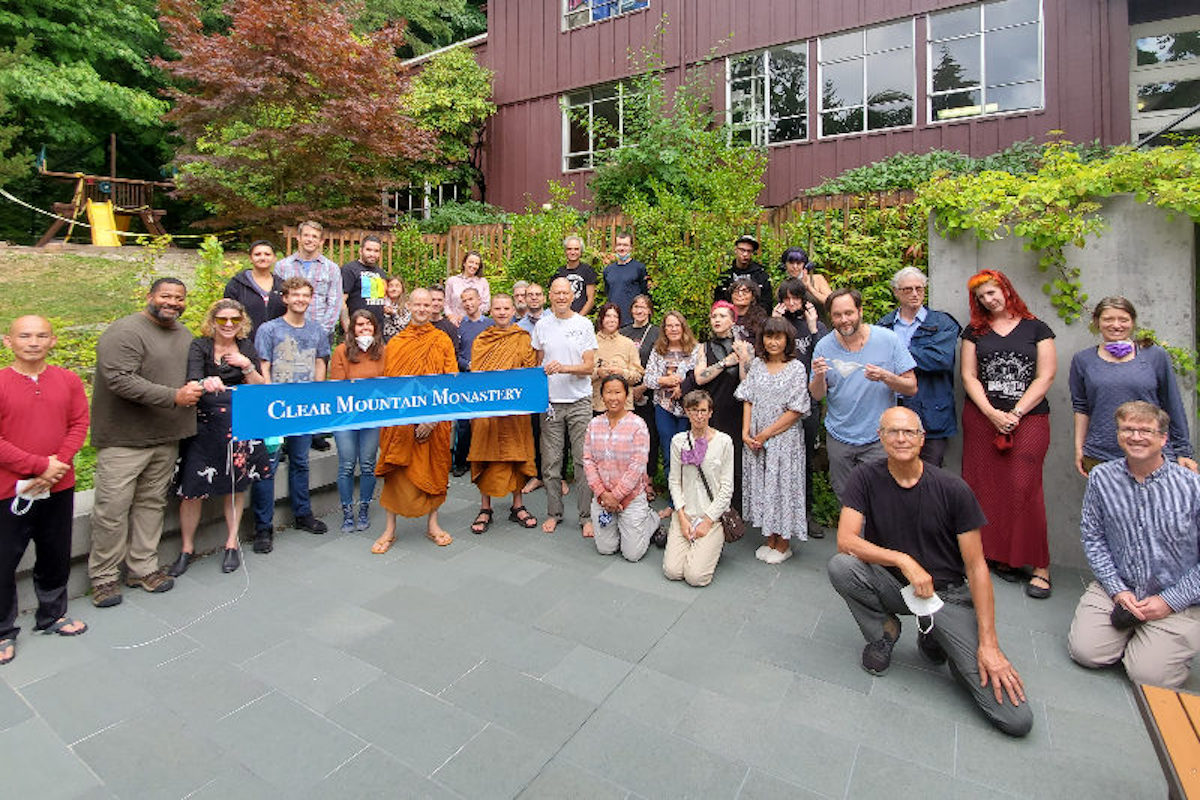 Saturday Morning Meditation, Teaching, & Coffee Social at Saint Mark's Bloedel Hall
Saturday, 9:30 am – noon, Saint Mark's Cathedral's Bloedel Hall, 1245 10th Ave E, Seattle (enter through the back of the cathedral) Those unable to attend in-person are also welcome to tune in via YouTube livestream.
Because other organizations sometimes use Bloedel Hall on Saturday mornings, Clear Mountain's gathering will occasionally be shifted to Skinner Auditorium in the Gage Academy of Art, the building adjacent the cathedral across the north parking lot. If you find no one in Bloedel Hall, simply walk to the north side of the cathedral, across the parking lot, and enter the Gage academy, where signs should be posted. If the door is locked, text the number listed on the signs posted there.
We ask that all attendees be vaccinated or have received a negative Covid test within the previous 72 hours. Additionally, those present should wear masks and are encouraged to socially distance. Thank you for helping us protect one another.
Come join us for a morning of meditation, teaching, and spiritual conversation over coffee! Each Saturday from 9:30 am – 11:30 am, local practitioners gather together in the Saint Mark's Cathedral's Bloedel Hall at 1245 10th Ave E. (enter through the back of the cathedral) for a community meditation, teaching, and coffee social. Gatherings begin with a guided sit from 9:30 – 10 am designed to accommodate and empower a wide variety of practices, from Buddhist meditation to centering prayer. The morning continues with a Dhamma teaching and Q&A from 10 – 11 followed by a chance, for those who want, to discuss life and practice over coffee from 11 – noon. In the spirit of Dhamma, all teachings are offered completely free of charge, with nothing expected in return. For directions and information on what to bring, see below. Additionally, if one wishes to offer food for the monastics' daily meal, they may arrive at 9 am to do so. Those unable to attend in-person are welcome to tune in via YouTube livestream. Welcome!  
What to Bring
Attendees to bring a mask, cushion to sit on, and their love of practice!
Directions
The group gathers in Saint Mark's Cathedral Bloedel Hall, at 1245 10th Ave. E. on Capitol Hill (enter through the back of the cathedral), though occasionally meetings are held at the Carriage House across the parking lot (see above details). We encourage the use of public transportation when convenient, and the Seattle bus #49 stops at the corner of 10th Ave. and E Galer, just north of the meeting place. 
Parking
Those driving may enter the campus at the north between the cathedral and the St. Nicholas Building – the location for Gage Academy of Art and the Seattle Amistad School. They may then drive all the way around the cathedral to the upper parking lot on its south side. Parking is free for Clear Mountain attendees even though signs in the lot indicate payment is required.
For news of upcoming retreats and teachings, subscribe to our YouTube channel, Facebook page, Discord Server, or newsletter. If you live in the greater Seattle area, you may join our WhatsApp group for locals. To organize carpools to and from events, visit our Rideshare Board. 
Speaker
Nisabho Bhikkhu

Nisabho Bhikkhu

After finishing college in 2012, "Tahn" Nisabho left his native Washington to go forth as a Buddhist monk in Thailand. He received full ordination the following spring under Ajahn Anan, a senior disciple of renowned meditation master, Ajahn Chah, and spent the following years training in forest monasteries throughout Thailand, Australia, and the US. While staying with some of the lineage's most respected teachers, he grew to believe the Thai Forest Tradition's balance of communal life with solitary forest dwelling, careful adherence to the monastic precepts, and focus on meditation represented a faithful embodiment of the original Buddhist path. Moreover, his time with contemporary masters such as Ajahn Anan, Ajahn Pasanno, and Ajahn Jayasaro, convinced him that such a path could yield great fruit in the heart even amidst the complexities of modern life.

In 2020, after nearly eight years in robes, Tahn Nisabho returned to the Northwest hoping to help establish a refuge of Dhamma and practice near Seattle.