The Aspiration of a Thai Forest Monastery in the Greater Seattle Area
Clear Mountain
A New Center of Dhamma Practice in the Pacific Northwest
T

he aim of Clear Mountain Monastery is the founding of a Buddhist community. In Theravada Buddhism, the Thai Forest Tradition represents a return to the simple way of life taught by the Buddha. Monastics aspire to live as the early disciples did: dwelling in the forest, studying the teachings, and devoting themselves to meditation. Monks, nuns, and laity exist in a relationship of mutual generosity, in which they support one another on the Buddha's path towards complete liberation of the heart — N
ibbāna
.
Clear Mountain's first monastic, Venerable Nisabho, aims to arrive in Seattle early July of 2021 and live on the quiet periphery of the city or neighboring islands. As those interested in creating a monastic home and center of Buddhist practice for the wider area come together, a new community based on the mutual generosity and interdependence of monastics and local Buddhists can begin to grow.
If you would like to be part of the Clear Mountain community and help support this aspiration, you may sign up for our Newsletter, follow us on Facebook, or email [email protected].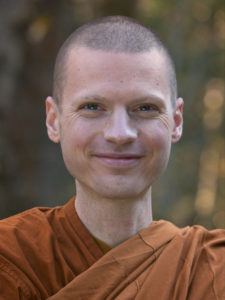 After finishing college in 2012, Ven. Nisabho (addressed as "Tan Nisabho" in the Thai custom) left his native Washington to go forth as a Buddhist monk in Thailand. He received full ordination the following spring under Ajahn Anan, a senior disciple of renowned meditation master, Ajahn Chah, and spent the following years training in forest monasteries throughout Thailand, Australia, and the US. While staying with some of the lineage's most respected teachers, he grew to believe the Thai Forest Tradition's balance of communal life with solitary forest dwelling, careful adherence to the monastic precepts, and focus on meditation represented a faithful embodiment of the original Buddhist path. Moreover, his time with contemporary masters such as Ajahn Anan, Ajahn Pasanno, and Ajahn Jayasaro, convinced him that such a path could yield great fruit in the heart even amidst the complexities of modern life. Though deeply grateful for the Ajahn Chah tradition's training, he felt called to step away from the lineage in order to establish an independent monastery.
In 2020, Tan Nisabho returned to Washington. The region's beauty and spiritual leanings seemed a good fit for a forest monk, and his parents, also long-term practitioners, are establishing a center, the Cascade Hermitage, a few hours East in Winthrop, WA. Additionally, Ajahn Kovilo, a fellow monk and friend who received ordination at Abhayagiri monastery in 2010, eventually plans to come and live in our budding community. With the hope that the new monastery might, like Mount Rainier, represent an ageless transcendence grown from ancient roots, the name "Clear Mountain Monastery" — or "Visuddhagiri" in Pali — was chosen.
Join us for online & in-person teachings from Ven. Nisabho, Ajahn Kovilo, & other monastic friends of Clear Mountain. To hear about new events, subscribe to our Newsletter, Facebook Page, or YouTube channel. Note that, until Clear Mountain's first monastic, Tan Nisabho, arrives in Seattle July of 2021, most events will be held virtually. Welcome!
In this session, Ajahn Kovilo will give a talk and brief Q&A focusing on "abandoning by seeing" as discussed in the Sabbāsava Sutta (MN 2). https://www.accesstoinsight.org/tipitaka/mn/mn.002.than.html
In the spirit of Dhamma, all teachings are offered freely, with nothing expected in return. There are costs involved in providing for the shelter and basic living needs of resident monastics, and for other expenses such as renting retreat spaces. For this reason, people often ask if there is a way they may support our organization. Those who wish to donate may send funds to the account managed by Clear Mountain's steward, Carson Furry, by clicking this link or the button below. Please note that, as the organization has yet to file as a non-profit, donations are not currently tax-deductible. If one wishes to give a larger amount or be notified when Clear Mountain gains 501(c)(3) status, please contact the email listed below. While most events are currently held virtually, upon Tan Nisabho's arrival in July of 2021, Clear Mountain's nascent community will have other opportunities to meet, and those interested will have the chance to offer alms and speak most mornings on the daily monastic alms-round. In the meantime, please feel free to subscribe to Clear Mountain's newsletter, find us on Facebook, or join us on YouTube. Welcome!
Please email general inquiries to [email protected].