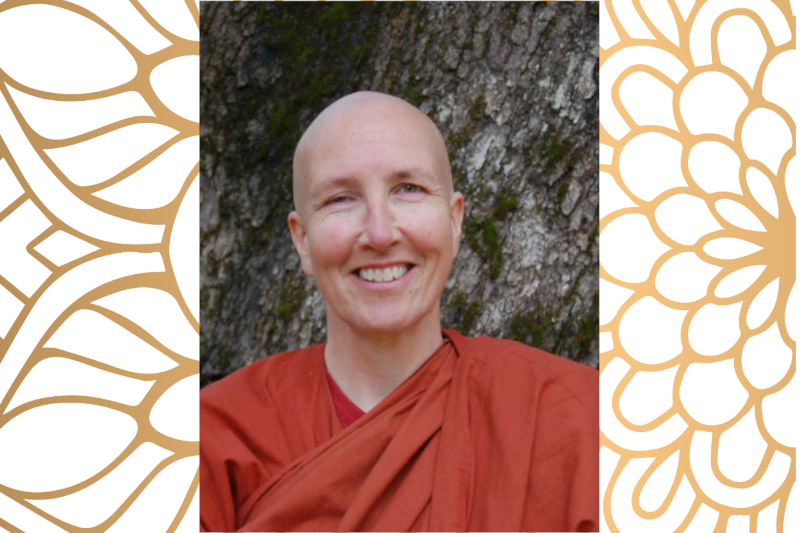 Saturday Morning Teaching with Ayya Anandabodhi at Saint Mark's
Join us in welcoming Ayya Anandabodhi to Clear Mountain's weekly gathering at Saint Mark's Cathedral, 9:30 am – 11 am, Saturday, Nov. 5th! Meeting at Amistad School's Skinner Auditorium at the 1501 10th Ave E, across the North parking lot from Saint Mark's cathedral, the event will be identical to Clear Mountain's weekly gatherings, but feature teachings and a Q&A with Ayya Anandabodhi. For directions and how to attend online, please see Clear Mountain's Saturday gathering event listing. Sadhu!
Biographies
Ayya Anandabodhi was born and raised at the foot of the sacred Preseli Mountains in Wales, UK. She first encountered the Buddha's teaching in her early teens while reading a book on Buddhism. Reading the Four Noble Truths was life-changing and from that moment she experienced a deep confidence in the Buddha's insight, and a wish to understand his teachings more deeply. At the age of 24, Ayya Anandabodhi began monastic training at Amaravati Buddhist Monastery in England.
Seventeen years later, in 2009, she moved to the USA with a wish to create more opportunities for women monastics. In 2011 she took full Bhikkhuni Ordination, joining the worldwide revival of the Theravada Bhikkhuni Order. Ayya Anandabodhi's practice and teaching are guided by early Buddhist scriptures, living in community, and through nature's pure and immediate Dhamma. To learn more, visit Aloka Vihara's website.
For news of upcoming retreats and teachings, subscribe to our YouTube channel, Facebook page, Discord Server, or newsletter. If you live in the greater Seattle area, you may join our WhatsApp group for locals. To organize carpools to and from events, visit our Rideshare Board. 
Speaker
Ayyā Anandabodhi

Co-founder of Aloka Vihara