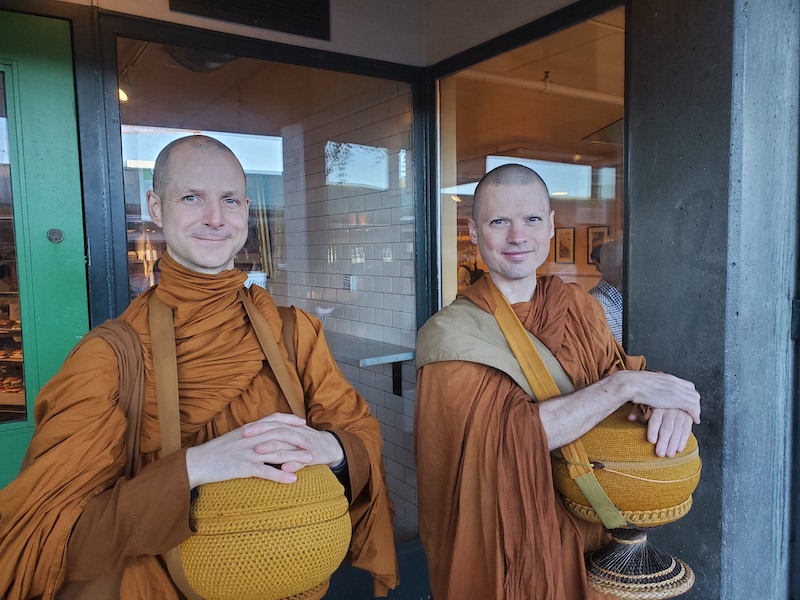 One With the Breath, Fun With the Breath: A Daylong Retreat with Ajahn Kovilo & Ajahn Nisabho
Friday June 30, 7:00 pm – 9:00 pm & Saturday July 11, 9:00 am – 5:00 pm
The event, hosted by Bellingham Insight Meditation Society (BIMS), will be held in-person at the Bellingham Unitarian Fellowship, 1207 Ellsworth St, and online via Zoom. You may learn more and register here. Note that Clear Mountain's weekly Saturday gathering in Seattle will still be held as usual.
Mindfulness of breathing is perhaps the most popular form of meditation practiced in America. The mass-market form of breath meditation commonly taught on mindfulness apps and in yoga studios, however, often describes it as a rote technique, missing the ethic of play and pleasure the practice can entail. On this retreat, Ajahn Kovilo and Ajahn Nisabho will guide practitioners through key elements of the Ānāpānassati Sutta, the Buddha's most comprehensive instructions on the practice, focusing on how to bring the breath, and our meditations, alive with a sense of fun, pleasure, and peace. And, if all that sounds too complicated … don't worry, all we will be doing is breathing! This retreat is suitable for all experience levels.
For news of upcoming retreats and teachings, subscribe to our YouTube channel, Facebook page, Discord Server, or newsletter. If you live in the greater Seattle area, you may join our "Mitta Meetups" Community Calendar and WhatsApp group for locals. To organize carpools to and from events, visit our Rideshare Board. 
Speakers
Ajahn Kovilo

Ajahn Kovilo

Ajahn Kovilo is an American monk who ordained in 2010 at Abhayagiri Buddhist Monastery with Luang Por Pasanno as his preceptor. He likes memorizing things and walking around and hopes to one day enjoy meditation.

Ajahn Nisabho

Ajahn Nisabho

After finishing college in 2012, Ajahn Nisabho left his native Washington to go forth as a Buddhist monk in Thailand. He received full ordination the following spring under Ajahn Anan, a senior disciple of renowned meditation master, Ajahn Chah, and spent the following years training in forest monasteries throughout Thailand, Australia, and the US. While staying with some of the lineage's most respected teachers, he grew to believe the Thai Forest Tradition's balance of communal life with solitary forest dwelling, careful adherence to the monastic precepts, and focus on meditation represented a faithful embodiment of the original Buddhist path. Moreover, his time with contemporary masters such as Ajahn Anan, Ajahn Pasanno, and Ajahn Jayasaro, convinced him that such a path could yield great fruit in the heart even amidst the complexities of modern life.

In 2020, after nearly eight years in robes, Ajahn Nisabho returned to the Northwest hoping to help establish a refuge of Dhamma and practice near Seattle.