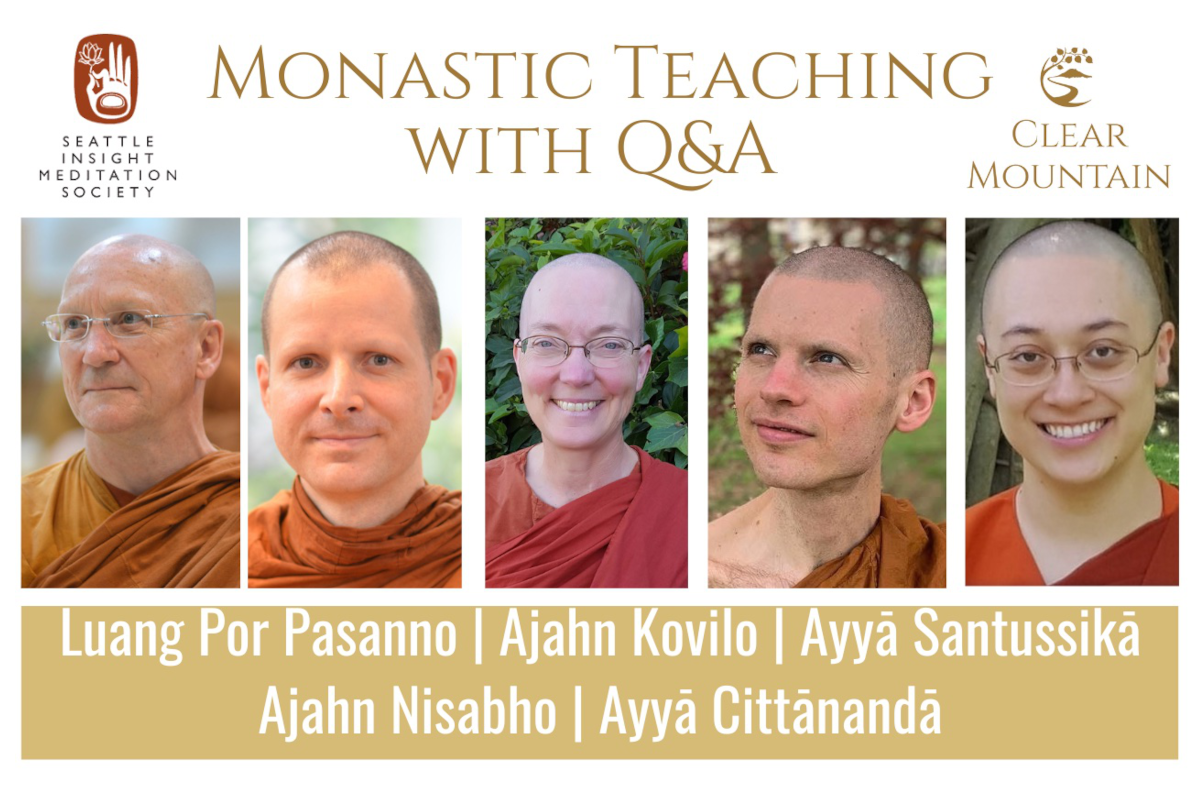 Dhamma Talk and Q&A with Luang Por Pasanno, Ayya Santussikā & Ayya Cittānandā (In-Person & Online)
Friday, June 16th, 6 – 8 pm at University Friends Meeting in the University District, 4001 9th Ave NE. Those unable to attend in-person are also welcome to tune in via Zoom and YouTube.
Join us for a Dhamma talk followed by questions & answers with Luang Por Pasanno, Ajahn Kovilo, Ayya Santussikā, Ajahn Nisabho, and Ayya Cittānandā at University Friends Meeting, on Friday evening, June 16th, from 6:00 to 8:00 PM. The event, co-hosted by Seattle Insight Meditation Society and Clear Mountain Monastery represents a growing friendship.
In the spirit of Dhamma, all teachings are offered completely free of charge, though those inspired may give in-person or online to SIMS or Friends of Clear Mountain. For directions and information on what to bring, please visit the event listing on the SIMS website. Those unable to attend in-person are welcome to tune in via Zoom. Welcome! 
Learn More (SIMS Event Listing)
Biographies
Luang Por Pasanno
Ajahn Pasanno took ordination in Thailand in 1974 with Venerable Phra Khru Ñāṇasirivatana as preceptor. During his first year as a monk he was taken by his teacher to meet Ajahn Chah, with whom he asked to be allowed to stay and train. One of the early residents of Wat Pah Nanachat, Ajahn Pasanno became its abbot in his ninth year. During his incumbency, Wat Pah Nanachat developed considerably, both in physical size and reputation. Spending 24 years living in Thailand, Ajahn Pasanno became a well-known and highly respected monk and Dhamma teacher. He moved to California on New Year's Eve of 1997 to share the abbotship of Abhayagiri with Ajahn Amaro. In 2010 Ajahn Amaro accepted an invitation to serve as abbot of Amaravati Buddhist Monastery in England, leaving Ajahn Pasanno to serve as sole abbot of Abhayagiri for the next eight years. In spring of 2018, Ajahn Pasanno stepped back from the role of abbot, leaving the monastery for a year-long retreat abroad. After returning from his sabbatical, Ajahn Pasanno now serves as an anchor of wisdom and guidance for the community. Abhayagiri is now under the active leadership of Ajahn Ñāṇiko, who Ajahn Pasanno requested to serve as abbot.
Ajahn Kovilo
Ajahn Kovilo is an Ohio-born monk who, having been introduced to meditation through the Goenka tradition, first entered the monastery in 2006. After receiving full ordination from Ajahn Pasanno and Ajahn Amaro at Abhayagiri Buddhist Monastery in California in 2010, Ajahn Kovilo spent the next decade training at monasteries in the Ajahn Chah tradition in America and Thailand. In 2020, after a year practicing at a Pa Auk Sayadaw monastery, Ajahn Kovilo enrolled at the Dharma Realm Buddhist University in Ukiah, California where he is currently studying Pali and Sanskrit among other courses. Until the end of his formal studies, Ajahn Kovilo will be participating in the growing Clear Mountain Monastery community remotely and during Winter and Summer breaks. After finishing his studies, Ajahn Kovilo will join the community in person on a more regular basis.
Ayyā Santussikā
Ayya Santussikā entered monastic life as an anagarika (eight-precept nun) in 2005, then ordained as a samaneri in 2010 and a bhikkhunī in 2012 at Dharma Vijaya Buddhist Vihara in Los Angeles. She has trained in large and small communities of nuns, including Amaravati and Chithurst monasteries of the Ajahn Chah tradition in England, and is one of the founders of Karuna Buddhist Vihara in Boulder Creek, CA, where she leads the community with Ayya Cittānandā.
Ajahn Nisabho
After finishing college in 2012, Ajahn Nisabho left his native Washington to go forth as a Buddhist monk in Thailand. He received full ordination the following spring under Ajahn Anan, a senior disciple of renowned meditation master, Ajahn Chah, and spent the following years training in forest monasteries throughout Thailand, Australia, and the US. While staying with some of the lineage's most respected teachers, he grew to believe the Thai Forest Tradition's balance of communal life with solitary forest dwelling, careful adherence to the monastic precepts, and focus on meditation represented a faithful embodiment of the original Buddhist path. Moreover, his time with contemporary masters such as Ajahn Anan, Ajahn Pasanno, and Ajahn Jayasaro, convinced him that such a path could yield great fruit in the heart even amidst the complexities of modern life. He currently resides in Seattle as part of Clear Mountain Monastery's aspiration.
Ayyā Cittānandā
After being inspired in 2005 by a college philosophy class, Ayya Cittānandā lived as a monastic at a small Chan monastery in Florida until moving to California, where she worked for two years while making daily visits to Abhayagiri Buddhist Monastery. In 2013, she began looking for a place to ordain, spending time at numerous monasteries before taking the anagarika precepts at Karuna Buddhist Vihara in 2015, samaneri ordination in 2016, and bhikkhunī ordination in 2018.
For news of upcoming retreats and teachings, subscribe to our YouTube channel, Facebook page, Discord Server, or newsletter. If you live in the greater Seattle area, you may join our "Mitta Meetups" Community Calendar and WhatsApp group for locals. To organize carpools to and from events, visit our Rideshare Board.