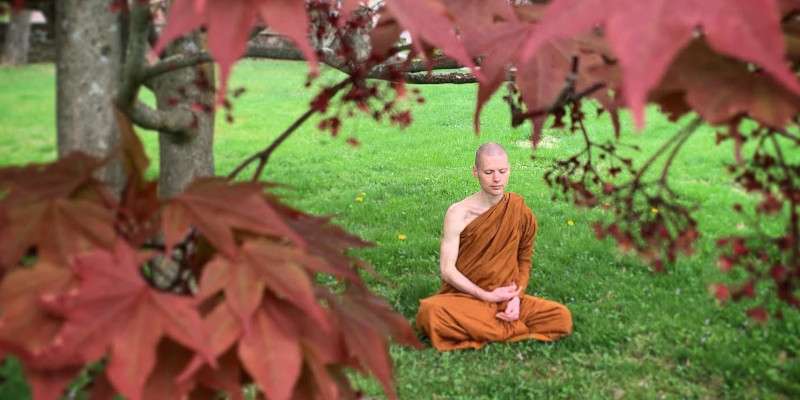 Breath, Play, and Revitalizing the Practice with Joy: A Monastic Daylong Retreat with Ajahn Nisabho (In-Person in Winthrop & Online)
Join Ajahn Nisabho for a day of meditation and teachings on Sunday, Oct. 30th, from 9-5 pm, at the Methow Valley Wellness Center in Winthrop, WA and online. Mindfulness of breathing, or ānāpānasati, is frequently taught as the practice of simply bringing attention to a single point or quality of breath. However, the active minds of meditators today often fail to grow calm through this approach, and practice becomes more a burden than a joy. Relying on over a decade of practice in the Thai Forest tradition, Tan Nisabho describes an approach to breath meditation that works with, rather than against, the thinking mind. By conceiving of the breath as a broad energy permeating the body, pairing it with brightening practices such as loving-kindness, and situating it within a field of open awareness, practice may again become a respite from, rather than one more of, the day's duties.
For news of upcoming retreats and teachings, subscribe to our YouTube channel, Facebook page, Discord Server, or newsletter. If you live in the greater Seattle area, you may join our WhatsApp group for locals. To organize carpools to and from events, visit our Rideshare Board. 
Speaker
Ajahn Nisabho

Ajahn Nisabho

After finishing college in 2012, Ajahn Nisabho left his native Washington to go forth as a Buddhist monk in Thailand. He received full ordination the following spring under Ajahn Anan, a senior disciple of renowned meditation master, Ajahn Chah, and spent the following years training in forest monasteries throughout Thailand, Australia, and the US. While staying with some of the lineage's most respected teachers, he grew to believe the Thai Forest Tradition's balance of communal life with solitary forest dwelling, careful adherence to the monastic precepts, and focus on meditation represented a faithful embodiment of the original Buddhist path. Moreover, his time with contemporary masters such as Ajahn Anan, Ajahn Pasanno, and Ajahn Jayasaro, convinced him that such a path could yield great fruit in the heart even amidst the complexities of modern life.

In 2020, after nearly eight years in robes, Ajahn Nisabho returned to the Northwest hoping to help establish a refuge of Dhamma and practice near Seattle.